Artful, durable bicycle luggage made of c
anvas and leather
---
Porteurs (and a couple other odds and ends...)
Porteur bags are large capacity front bags based on the bikes and racks of French newspaper deliverymen from the mid-century. Great for when you'll be hauling a bunch of stuff around town. One customer's requirement is a bag that could carry a dozen eggs and a six-pack. The line between a demi-porteur and a large handlebar bag is difference that's hard to quantify.
For size, pricing, material, and feature options go
here
Powered by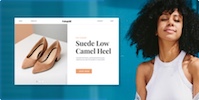 Create your own unique website with customizable templates.